Mobile video surveillance for more security
Effective surveillance for your site
Do you need video surveillance that you can rely on around the clock - in all weathers and lighting? Our Dussmann Security Guard concepts offer you effective mobile security.
For construction sites and material storage, access roads and vehicle or machine parks, the Dussmann Security Guard is available as an individual mobile element or a fixed, connected system. It provides real-time monitoring and helps you save costs.
Cutting-edge technology for your requirements
The mobile video towers are equipped with the surveillance technology appropriate for the site. Here is a selection:
Cameras and perimeter technology combine to ensure seamless surveillance.
Detailed video recordings log any incidents.
The alarm receiving center can address an intruder via loudspeaker.
Thermal cameras detect and report objects or people based on heat signature, even in absolute darkness and at distances of more than 200 meters.
Fire detection technology measures heat radiation over the area in camera range. An alarm is triggered if a set value is exceeded and the Dussmann alarm receiving center initiates intervention.
On request, the client has live access to camera images and data.
An LTE modem enables connection to the certified Dussmann alarm receiving center, where intervention measures are initiated.
A VdS-recognized intruder alarm system including switch unit may be additionally installed.
Your benefits
Surveillance is excellent and false alarms are rare.
Monitoring is customized for individual monitoring needs and local conditions.
Installation costs are comparatively low.
Energy costs of lighting are reduced.
The costs of security personnel on site are minimized.
An individual and detailed action plan facilitates precise intervention services.
The Dussmann alarm receiving center coordinates and initiates the intervention measures agreed.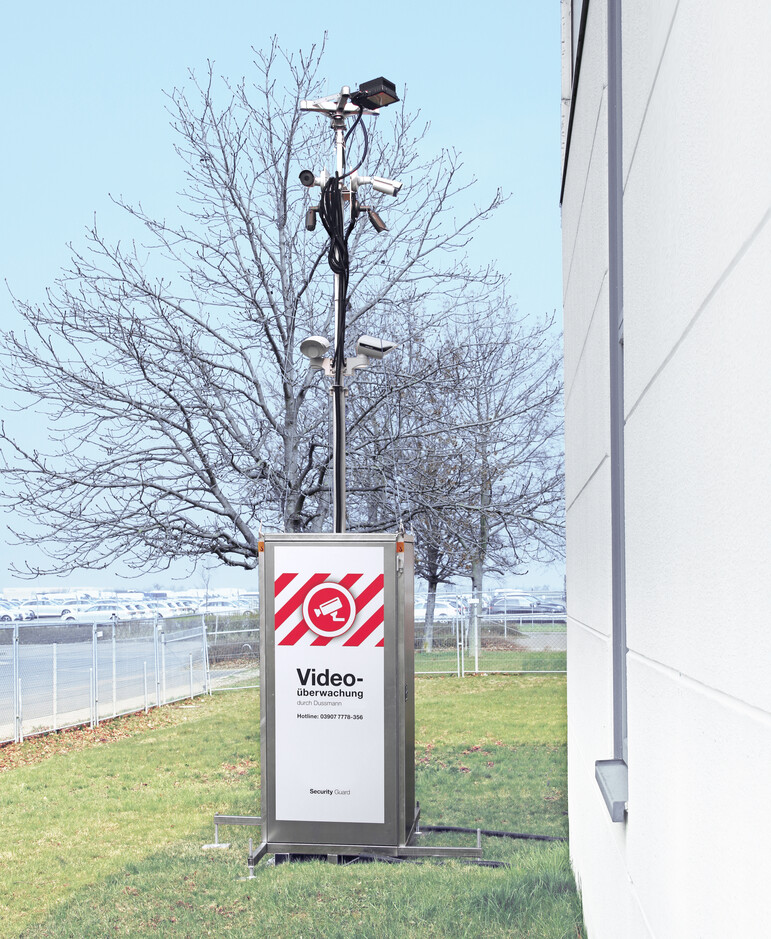 Contact us
We will be happy to advise you on the protection needs and associated requirements that apply to the protection of your property.